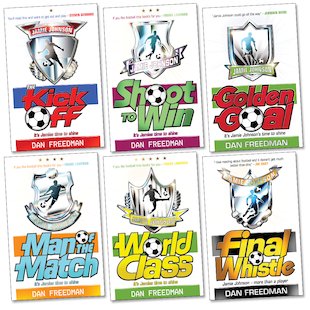 Look inside
Jamie Johnson Pack
Tales of football glory by a former official FA writer. Stephen Gerrard and Frank Lampard rate this series. So will you. These books are written by an pro football insider who lives with the England team when they're on tour. Expect all the sweat, grit, pain and passion of the beautiful game. Jamie Johnson is a young soccer prodigy who dreams of being a top-league star. He's got guts, vision and talent. But is that enough? Can Jamie shoot to the top?
"You'll read this and want to get out there and play." Steven Gerrard
"True to the game… Dan knows his football." Owen Hargreaves
"If you like football, this book's for you." Frank Lampard
Fun Stuff
Activities
Download this free wallpaper for your PC.

Download this cover picture to your PC and use it to customise all your stuff!
Who's reading this?