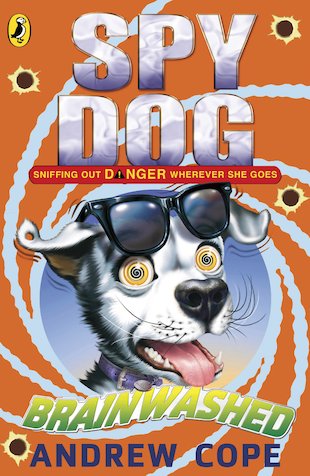 Look inside
Spy Dog: Brainwashed
Criminals daren't step a paw out of line when Lara the spy dog is around! But lately Lara has been living too well – and now she finds herself with a pooch paunch to shift! So she and the Cook family decide to try out a new gym. But as Lara launches into fat-burning action, she makes a shocking discovery! Harriet Hawk – the evil gym owner – is brainwashing gym members, turning them into an army of criminals who rob banks and raid jewellers. And there's an even more dastardly plan afoot: to make the hypnotised adults kidnap the country's schoolchildren! With Mr and Mrs Cook brainwashed too, can Lara stay sane long enough to stop this evil nightmare and wake her owners up?
Fun Stuff
Quizzes
Activities
Spy Dog is the teacher's pet! Colour in proud Lara.

Colour in Lara and the neighbourhood watch team.

Colour in Lara working undercover in the classroom!
Who's reading this?