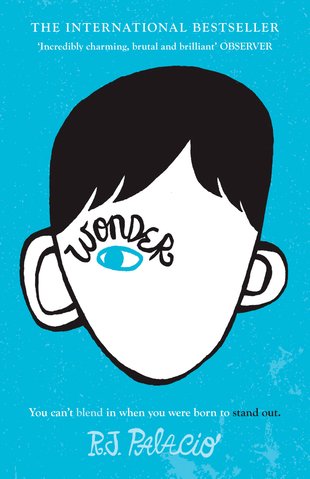 Look inside
Wonder
Ultimate feels! A book to take your heart on a wondrous rollercoaster ride. Auggie likes doing normal stuff like eating ice cream and playing on his Xbox. He feels normal – inside. But being normal doesn't make little kids run away screaming. Or devastate your soul like this inspiring story. Right? Born with a serious facial abnormality, Auggie has been taught at home all his life. Now he's going to school for the very first time. He'll have to expose his face to the world. Will anyone see past it? Warm, funny and heartbreaking, Auggie's story will stay with you for the rest of your life.
Powerful and intensely moving: an instant modern classic
Now a film starring Julia Roberts and Jacob Tremblay
A compelling look at living with a facial abnormality
Explores the topic of difference in a frank, funny way
"A gem of a story. Moving and heart-warming. This book made me laugh, made me angry, made me cry." Malorie Blackman
"Incredibly charming, brutal and brilliant." Observer
#reading-lists-11
#tile-favourite-authors
#march-star-buys
#talented-readers
#secondary-092017
#essential-ya-092016
#gr-10-11
#books-to-make-you-think-rr
#jan-realistic-ya-17
#feel-good-reads-wbd
#watchbeforeyouread-17
#issue-books-17
#top-100-201718-11
#top100age11plus
#top100-all
#top100-all1718
#top100age11to13plus
#toppacks-reading-collections
#isbc-handpicked
#reading-spine-year-8
#reading-spine-ks3
#rbmember
#summer-18
#sum-18
#sum-18-ie
Who's reading this?
We want to read this book