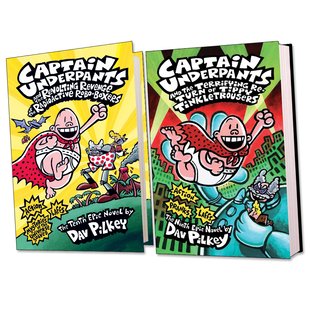 Look inside
Captain Underpants Hardback Pair
Tra-la-la! The Captain is back – but for how long? He's tangling with old rivals and rowdy robotic undies… not to mention being written out of existence! The world has been without wedgie-power in the interval since the Captain's last adventure. In the meantime, his former foe Professor Poopypants has hatched a dastardly new plan. The professor has changed his name to Tippy Tinkletrousers, and and is seeking revenge for the teasing his old name inspired. The mighty Captain must find a way to mop the floor with this pee-pee powered villain! But the peril heightens when George and Harold are turned into evil zombie nerds and evil robotic pants start running riot. The Captain finds himself written out of history, and no longer exists to save the day! Can he bounce back from this humungous setback?
Fun Stuff
Activities
Try your luck at the Cafeteria Ladies' Crafty Crossword!

Happy Underwear Day! A Captain Underpants pic for you to colour!

Wedgie power! A fun Captain Underpants picture to colour.

Can you complete this perplexing peewee-powered puzzle?

Pants, wedgies and toilets… a fun Captain Underpants crossword for you!

Yum yum, eat 'em up! It's the Talking Toilets Maze!

A great picture of Captain Underpants to colour and keep.

Learn how to draw Captain Underpants with our handy step-by-step guide.

Learn how to draw the Turbo Toilet with our handy step-by-step guide.
Who's reading this?