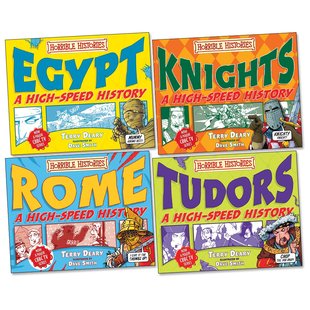 Look inside
Horrible Histories: High-Speed History Pack
Take a rollercoaster ride into the past, hurtling through history at mega high speed! Breakneck, blood-soaked comic strips rush through it all, with sight-seeing stops at all the nasty bits! From the Horrible Histories maestro Terry Deary, these hilarious books are sure to make your heart race. Moaning Egyptian mummies, ruthless Roman royals, terrible Tudor kings and no-nonsense knights take you on a super-speedy tour of their worlds, with no stops for the travel-sick. Mixing horrid history with hilarious comic strips, this is fast, furious, full-on fun!
Fun Stuff
Activities
Download this Knight wallpaper for your PC.

Download this soldier wallpaper for your computer.

Viking wallpaper for your PC.
Who's reading this?