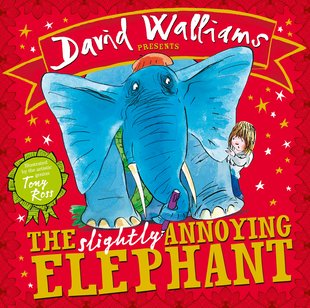 Look inside
The Slightly Annoying Elephant
David's got so much talent! His first picture book has jumbo laughs – plus brilliant pictures by genius artist Tony Ross. The man who makes the nation giggle dishes out BIG chuckles for all you little laughter-lovers. Do you like elephants? Do you like jokes? Well… imagine if you filled in an Adopt an Elephant form at the zoo. Then imagine if the elephant really came to stay. Would that be fun – or would it be slightly annoying? This book is so hot it's setting fire to our delivery vans. Kids and grown-ups: don't fight over who gets to read it first!
#animal-picture-books
#zoo-picks1
Fun Stuff
Activities
Get creative and colour the Slightly Annoying Elephant riding Sam's brand new bike!

Love books that tickle your funny bone? Check out our top tips of old favourites and the best new titles.

Colour this elephant mask and ask an adult to cut it out for you.

Can you spot all the differences in this Christmas puzzle?

Join the dots to discover what unusual visitor has arrived on Sam's doorstep.

Help the Slightly Annoying Elephant find the shortest way from Africa to Sam's house.
Who's reading this?