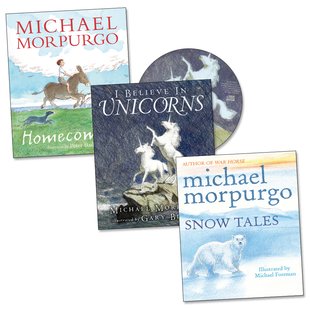 Look inside
Michael Morpurgo Pack
Three great favourites all in colour, and one even has a story CD. Wake up your reading power. Michael Morpurgo explores some of his favourite themes in this great pack of easy reads: war, animals and the past. Storytelling so powerful that you'll shake inside. But so simple and clear that you can easily read each book alone. Plus beautiful colour pictures from some of his most famous artistic friends, including Michael Foreman and Gary Blythe. (Both of them have won the super-important Kate Greenaway Medal.) So much talent in one pack. All it needs is you.
Fun Stuff
Activities
See if you can find these words from your favourite stories in the grid.

Can you guess which Michael Morpurgo book these clues and quotes are from?

Can you re-arrange these words to discover more fantastic Michael Morpurgo book titles?
Who's reading this?