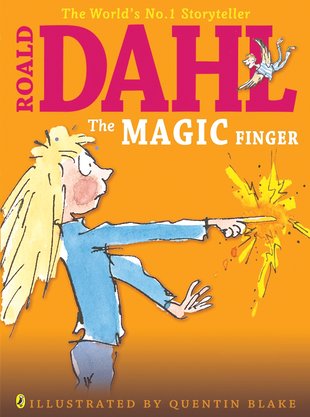 Look inside
The Magic Finger (Colour Edition)
Only one thing could make this zingy classic even better. And now it's got it: colour art. Have YOU ever been angry with someone? What if every time a person upset you, you could zap them with your magic flashing finger? This story is about a little girl who can do just that. She turns her horrible teacher into a creature with whiskers and a tail. And as for the nasty Greggs family who hunt ducks next door – her magic finger has something very special in store for THEM. Quack!
A funny Roald Dahl classic for younger fans
Packed with colour pictures by Quentin Blake
An ideal short novel to build reading fluency
Message about doing as you would be done by
#march-star-buys
#modern-classics
#anti-bully-youngerfiction-bullying
#anti-bully-all-younger-fiction
Fun Stuff
Activities
Whizzpopping adventure and magical mayhem! What to read next for fans of Roald Dahl.

Want to read more Roald Dahl books? Use this helpful guide to pick the right ones for you.
Who's reading this?
We want to read this book