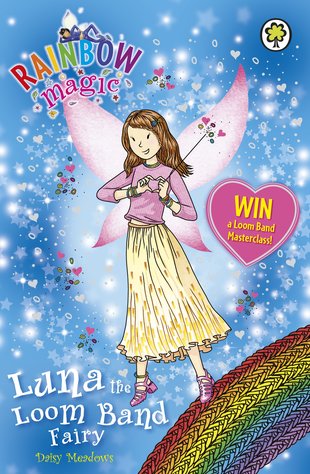 Look inside
Rainbow Magic One-Offs: Luna the Loom Band Fairy
Fairies plus loom crafts. Your kind of magic. Even better than bracelets. The book to read when you're not making them. Loom bands have stormed the universe. Now the craze has hit Fairyland! When the fairies finish their work for the day, they love nothing more than whipping up a bit of loom magic. Luna the Loom Band Fairy lends a hand, making sure loom creations everywhere look totally fabulous. But when naughty Jack Frost steals her sparkling golden loom, things start to go wrong. Rachel and Kirsty: we need your help – our loom bands are all in a twist!
Fun Stuff
Activities
Four beautiful weather fairies for you to colour in.

Cut out and colour a fantastic fairy doorhanger!

Can you find all the words in this magical Weather Fairy puzzle?
Who's reading this?