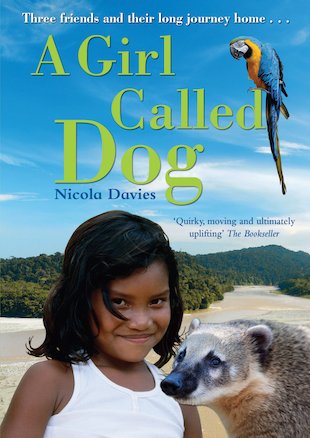 Look inside
A Girl Called Dog
Dog wasn't really a dog, she was a human girl. But she was called Dog because that is what Uncle had always called her.
Dog has never been outside her cruel uncle's pet shop. She sleeps in a box on a floor and has no idea what the outside world looks like. Then, in a flurry of colour and feathers, Carlos the parrot arrives in the shop – and the world as she knows it changes forever. Escaping from her uncle, Dog, Carlos and her best friend Esme the coati set out in search of the same thing: somewhere they can call home, somewhere to belong. But the world is a huge and dangerous place, and they face danger and adventure at every turn…
Three courageous friends set out on the journey of a lifetime in this funny, heartwarming tale of discovery and belonging, which will delight any fan of Roald Dahl or Michael Morpurgo.
Praise for the author:
"There is not a word too many, there is not a word out of place… near-poetic narrative." TES
"I was caught, hook, line and sinker…" Guardian
"I loved this book so much I could have eaten it!" Daily Mail
Who's reading this?
We want to read this book