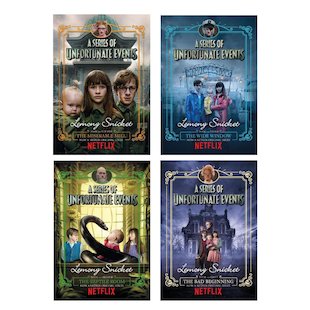 Look inside
A Series of Unfortunate Events Pack x 4 (TV Editions)
At last, the cult books are on Netflix! But don't smile – keep your tissues close by! This woeful saga starts with a death, and it's downhill all the way from there. There will be no lucky twists of fate. No lighthearted laughter. Nothing but misery and misfortune. Forget happy endings! The Baudelaire children – Violet, Sunny and Klaus – have just been orphaned. What could be worse than being completely alone in the world? Only this: having an evil uncle, Count Olaf, who wants to destroy you and steal your family's fortune!
The dark comedies that made Lemony Snicket a star
Now a new Netflix series starring Malina Weissman
Global bestsellers with over 65 million copies sold
True cult classics – twisted, wry, gothic and clever
Who's reading this?
We want to read this book