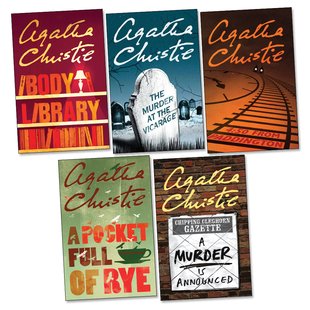 Look inside
Agatha Christie Pack x 5
The only place to come for a jolly good murder. Seriously addictive and goes perfectly with some cake and a nice cup of tea. You know the crime cliches? Well – here's the writer who made the cliches! Which means her ideas were so UNIQUE and AMAZING that everyone else copied them. (But not half as well.) So if you want great crime fiction, come straight to the original mistress of crime and her masterpieces of mystery. Featuring classic sleuth Miss Marple, these classic whodunnits have it all: betrayal, poison, surprise plot twists and village scandals. Not to mention plenty of murder! Solve the mystery of where your fave TV thrillers got their inspiration from.
Timeless classics from the legendary Queen of Crime
Five vintage mysteries featuring iconic sleuth Miss Marple
Thrillers which offer a dark glimpse into the human psyche
Hugely popular and influential books with millions of fans
This pack contains mature content.