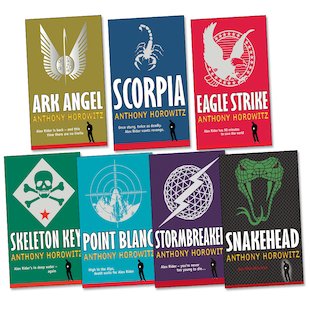 Look inside
Alex Rider Pack
A billionaire's gift – with a deadly sting in its tail.
Dr Grief's Point Blanc: a mountain school with a sinister secret.
The insane Russian General who plans to change history… the nuclear way.
A murderous madman and an assassin, both poised to strike.
A criminal group that can offer Alex something no-one else can: the truth.
The eco-terrorism cell with ambitions that are out of this world.
The Triads whose Snakeheads have poison in their blood.
One teenage boy. Seven stellar missions. Countless evil villains. A million horrible ways to die. If you want furious excitement, nail-biting danger, adrenaline-soaked tension and nerve-clenching thrills, you can have them all in Alex Rider's adventures.