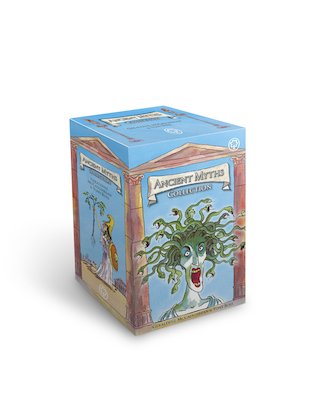 Look inside
Ancient Myths Collection Box Set (16 books)
Titans, Gorgons, minotaurs, murderous battles: massive myths retold by a legendary team! Top author Geraldine McCaughrean's fresh new take on all the Greek and Roman myths you most need to know, with funny pictures by star illustrator Tony Ross. Zeus and his thunderbolt. Jason and the Golden Fleece. Hard-working Heracles: they're all in here! In one handsome box set of short books full of page-turning exitement and heroic deeds: what more do you want? Get in on the action!
Sixteen essential myths retold by Geraldine McCaughrean
Geraldine is best-known for her classic The Kite Rider
Greek and Roman myths in an attractive storage box
Fabulous artwork by legendary illustrator Tony Ross
Contents: A Shot in the Dark; Romulus and Remus; City of Dreams; Burning the Books; Zeus Conquers the Titans; The Wooden Horse; Theseus and the Minotaur; Phaeton and the Sun Chariot; Perseus and the Gorgon Medusa; Persephone and the Pomegranate Seeds; The Adventures of Odysseus; Jason and the Golden Fleece; Hermes Tricks the Gods; The Twelve Labours of Heracles; Daedalus and Icarus; Athena and the Olive Tree.
#reluctantreaders-reading-collections
#gift-guide-xd-facts
#gift-guide-xd-classics