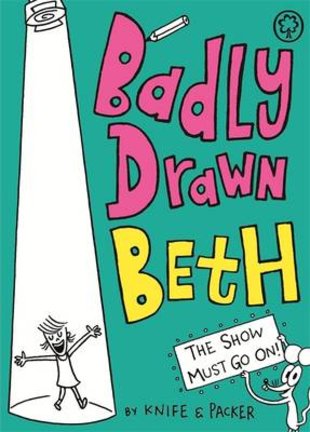 Look inside
Badly Drawn Beth #2: The Show Must Go on!
Have you heard of Knife and Packer? Genius cartoonists and all-round funny maestros. They write and draw silly cartoon strips for famous grown-up mags like Private Eye. But they've also given you lucky kids the crazy laughs of Badly Drawn Beth. (Psst: we don't think she's badly drawn at all.) She's a kid just like you. Well – except that she's wearing soggy noodles on her head. And her dad is singing karaoke very loudly. And her mum is prancing round in a tutu. Worst of all: this is happening ON STAGE, in front of Beth's whole school. Is this like you? We hope not! Is it a nightmare? YES!
A hilarious fictional diary from a top cartoonist team
Knife and Packer have written for The Guardian and Private Eye
Their bestselling books include Fleabag Monkeyface
Fleabag Monkeyface is now an animated TV show
Who's reading this?
We want to read this book