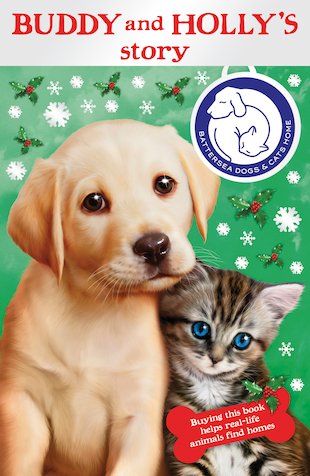 Look inside
Battersea Dogs and Cats Home: Buddy and Holly's Story
An adorable seasonal story starring two fluffy bundles of joy! There's double the fun this Christmas when two of Battersea's cutest residents find a new home. Best friends Jo and Helen are next door neighbours on Bell Lane – and now Santa is delivering the perfect surprise for them both! A gorgeous tabby kitten for Jo, and a cuddly Labrador puppy for Helen! With the excitement of Christmas just around the corner, the school holidays look set to be extra special. But puppies and kittens don't always get along. Will Holly and Buddy become best friends as well? Find out in the perfect Christmas read for any animal-lover!
Praise for Snowy's Story in the series:
"It's not quite the same as finding a real puppy underneath the Christmas tree but this tale of a cute little St. Bernard will certainly be a great present for dog lovers." Sunday Express
Fun Stuff
Activities
Have you read all the books in the Battersea Dogs and Cats Home series?
Who's reading this?