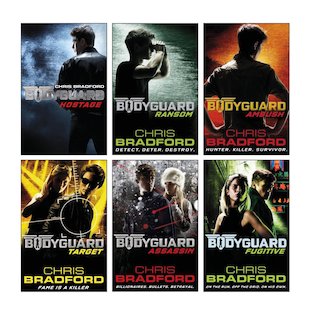 Look inside
Bodyguard Pack x 6
The showbiz CHERUB ! Fancy being famous? Then you need a bodyguard. It's a deadly world out there. Today's bright young things – pop stars, rich kids – need a minder. Someone you'd never notice. Like: another kid. (Smart.) Wake up! Youth isn't like it used to be. In today's world, kids can be major stars. But they're also big targets. Enter Connor Reeves: fourteen, fully trained and ready for (almost) anything. If he's assigned to protect you, he'll look just like your best mate. But woe betide you if you try to mess with the folk he's protecting. His job is to make you sorry. And to make sure his clients survive.
A storming YA series from the author of Young Samurai
Turbo-charged thrills for fans of

CHERUB

and Alex Rider
Chris Bradford is a qualified bodyguard and martial artist
He has won several awards including the Brilliant Book Award
Who's reading this?
We want to read this book