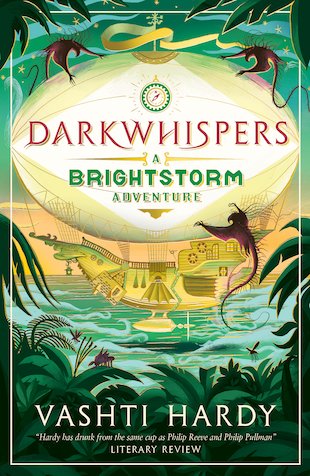 Look inside
Brightstorm #2: Darkwhispers: A Brightstorm Adventure
More high-flying thrills in the sky-ship of dreams. Peril. Surprises. Betrayal? Once again, the plucky Brightstorm twins are racing neck and neck against their scheming aunt, Eudora Vane. She's on a mission to the Eastern Isles to find missing explorer Ermitage Wrigglesworth. But something doesn't feel right. What are Eudora and her crack fleet of explorers really looking for? The twins are determined to find out. Yet there's no trace of the missing man… until the twins stumble upon a land that doesn't want to be found! But when disaster strikes and Arthur and Maudie are separated, will the twins ever find each other again?
The dazzling sequel to steampunk fantasy Brightstorm
A soaring aerial adventure full of danger and delight
For fans of Philip Reeve, Philip Pullman and Cogheart
Brightstorm was shortlisted for the Waterstones Prize
Who's reading this?
We want to read this book