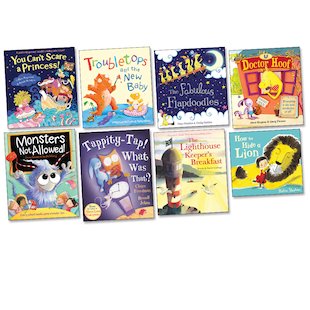 Look inside
Bumper Value Picture Book Pack
Stock up your home library with a feast of superb fiction to stimulate kids' imaginations and build their reading skills. This glorious collection brings you heaps of recent and classic picture books, at a price that's kinder to your pocket! There's nothing like having a well-stocked bookshelf in your home to give you instant access to the wonderful world that reading opens up. This quality pack lets you create that colour and vibrancy in one quick, simple stroke. Focusing on recently published fiction from rising stars and established names, it means your child will always have a great book to grab their attention, with no need to venture to the library or bookshop.
Fun Stuff
Activities
Draw a pirate with Princess Spaghetti from You Can't Scare a Princess.

More gubbins for your pirate!

Hints and tips on sharing this book with children.
Who's reading this?