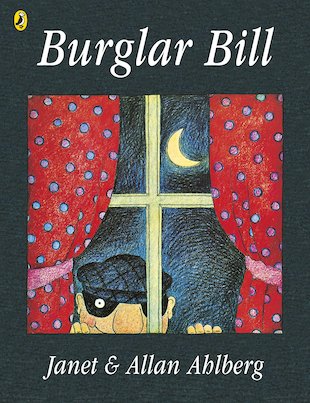 Look inside
Burglar Bill
Burglar Bill is a very naughty man. Each night, he eats a stolen supper and goes out stealing things. But when he accidentally steals a baby, it turns his naughty life upside down! This hilarious tale by Janet and Allan Ahlberg is one of the best-loved picture books ever – a timeless classic that parents recognise and children love. The iconic images of swarthy Bill clutching his swag bag stick fast in the mind, while everyone will breathe a sigh of relief as he renounces his wicked ways and turns over a new leaf!
#modern-classics
#younger-readers
#young-readers
#ey-books
#young-readers-1
#early-books1
#readandrespond-0816
#top100-092016
#top100-ages5to7
#pboffer-1016
#top-100-201718-primary
#top-100-201718-57
#top100age5to7
#top100-all
#top100-all1718
#top100age3to7
Fun Stuff
Activities
Download this gorgeous 'Counting with Janet and Allan Ahlberg' poster.
Who's reading this?
We want to read this book