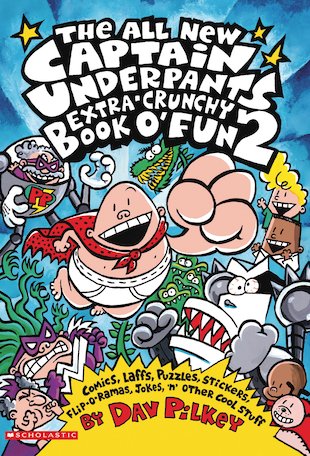 Look inside
Captain Underpants: The Captain Underpants Extra-Crunchy Book O'Fun 2
They're back – with the most disgusting jokes, the most perilous puzzles and the all-time silliest things to do EVER! That's right – George and Harold preeeeseeent… THE ALL NEW CAPTAIN UNDERPANTS EXTRA-CRUNCHY BOOK O'FUN 2 (Winner of the longest and most ridiculous book title award at the the prestigious Strawberry Bottom Literary Festival). Find out how to draw more of your favourite characters! Become the star of your own Captain Underpants adventure! Best of all, there's even a new bumper comic: The Night of the Terror of the Revenge of the Curse of the Bride of Hairy Potty. Yippee!
Fun Stuff
Activities
Wedgie power! A fun Captain Underpants picture to colour.

Happy Underwear Day! A Captain Underpants pic for you to colour!

Pants, wedgies and toilets… a fun Captain Underpants crossword for you!

A great picture of Captain Underpants to colour and keep.