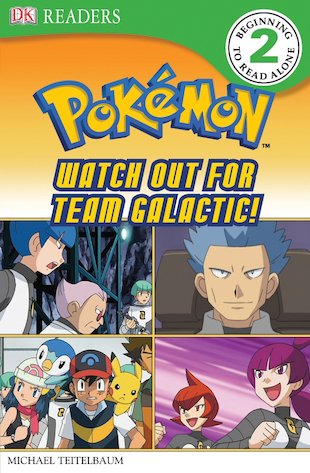 Look inside
DK Readers: Pokémon - Watch Out for Team Galactic!
Peek into the dark side of the Pokémon universe! Meet the members of sinister Team Galactic, who live inside Mount Coronet, hatching evil plans! Drama and tension reign in this gripping guide from Level 2 of the fantastic DK Readers series, which takes readers deep into the heart of the Pokémon world's most villainous outfit. Learn about Team Galactic's cruel vision of creating a new universe without friendship or love, where their leader Cyrus will be the supreme ruler. Discover the history of their many clashes with the Pokémon. Then find out how, through the courage of the Pokémon and their trainers, Team Galactic are defeated!
Packed with vibrant colour pictures and simple facts, this Level 2 reader is ideal for children who are beginning to read alone. It includes slightly longer sentences, increased vocabulary, information boxes and a short index.