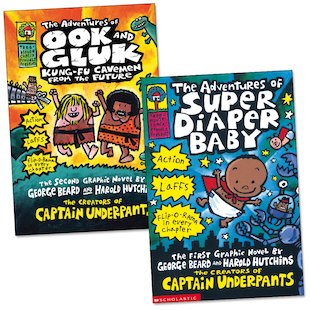 Look inside
Dav Pilkey Pair
Nappy-clad superheroes, crazy kung-fu caveboys and super-smelly villains! Doo-doo you dare to read on? From Dav Pilkey, the creator of Captain Underpants, these loony laughter explosions will make you snort your drink right out of your nose! Can pint-sized hero Super Diaper Baby save the world from diabolical Deputy Doo-Doo – aided only by trusty Diaper Dog and lots of toilet paper? Can courageous Ook and Gluk, two cool caveboys from the prehistoric world, stop an evil corporation from invading their quiet town? Packed with action, chuckles, jokes and flip-o-rama, here's excitement aplenty to blow your pants off!
Fun Stuff
Activities
Colour the crazy cavemen from the future!

Can you solve Master Wong's Maze of Peace and Stuff?
Who's reading this?