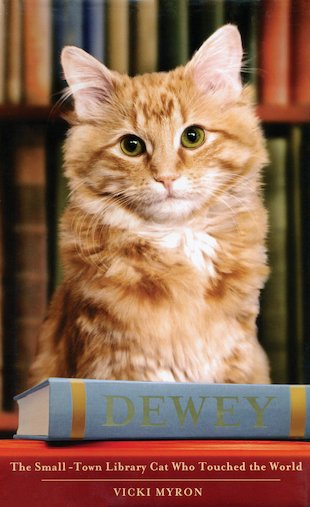 Look inside
Dewey: The Small-Town Library Cat Who Touched the World
On the coldest morning of the year, Vicki Myron found a tiny, bedraggled kitten almost frozen to death in the night drop box of the library where she worked. Her life — and the town of Spencer, Iowa — would never be the same.
Vicki was a single mother who had survived the loss of her family farm and an alcoholic, abusive husband. But her biggest challenge as the new head librarian in Spencer was to raise the spirits of a small, out-of-the-way town mired deep in the farm crisis of the 1980s. Dewey, as the townspeople named the kitten, quickly grew into a strutting, adorable library cat whose antics kept patrons in stitches, and whose sixth sense about those in need created hundreds of deep and loving friendships. As his fame grew, people drove hundreds of miles to meet Dewey, and people all over the world fell in love with him. Through it all, Dewey remained a loyal companion, a beacon of hope not just for Vicki, but for the entire town of Spencer as it slowly pulled itself up from the worst financial crisis in its long history. This is Dewey's unforgettable story, which proves that unconditional love comes in many forms.
"Even confirmed cat-haters would warm to the true story of Dewey… Far more than just a cute cat book, it is a real feel-good story about the whole community whose lives Dewey touched" The Bookseller
Who's reading this?
We want to read this book