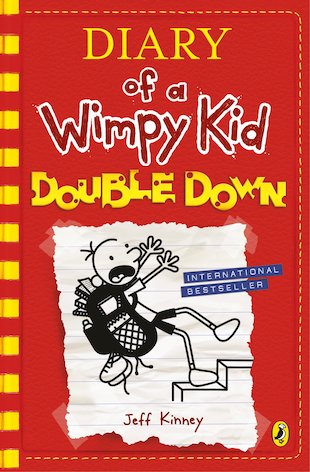 Look inside
Diary of a Wimpy Kid #11: Double Down
Today: Yawnsville. Tomorrow: Hollywood! Say hello to Greg Heffley, hotshot movie maker! Your favourite wimp is under pressure of that dull old parental kind. (Zzz.) His mom thinks video games are turning his brain to mush. She wants him to lose his game console and find his creative side. Yikes! But talking of frights, Halloween is just around the corner. Dumb costumes, horror movies, scary stories – it's given Greg a great idea! Can he get Mom off his back (and get rich and famous) by making a movie? Watch this space – and get ready to beg for an autograph!
Eleventh in Jeff Kinney's blockbusting series
Now in a pocket-friendly paperback edition
Bursting with the Wimpy Kid's hallmark humour
Incredible cartoon artwork all the way through
#new-january18-clubs
Fun Stuff
Who's reading this?
We want to read this book