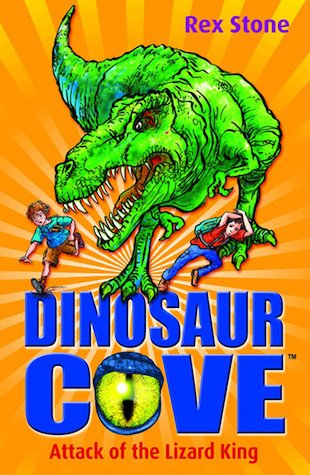 Look inside
Dinosaur Cove: Attack of the Lizard King
When Jamie moves to Dinosaur Cove with his father, he's looking forward to doing some fossil-hunting on the beach. And when he and his friend Tom discover a seaside cave filled with fossilised dinosaur footprints, it takes them to another world… a world of dinosaurs. In this secret place, the boys wander into an amazing prehistoric landscape of strange creatures, mysterious fungi and fruits which smell like sick! But when the ground starts to shudder, the boys know they're in BIG trouble. Tyrannosaurus Rex has spotted them – and he's coming their way!
Fun Stuff
Activities
Here's a pair of battling tyrannosaurs from the Dinosaur Cove series to colour in.

Here's a herd of triceratops from Dinosaur Cove for you to colour in.

Here's a spiky stegosaurus from Dinosaur Cove to colour in!
Who's reading this?
We want to read this book