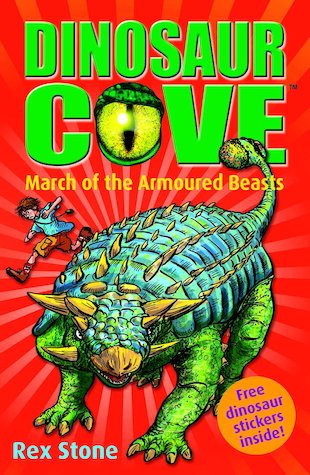 Look inside
Dinosaur Cove: March of the Armoured Beasts
Dinosaur Cove isn't just any old seaside cave. It leads Jamie and Tom to a forgotten world… a world of dinosaurs! But when the boys discover some fresh dino footprints and decide to go tracking, they discover a baby Ankylosaurus stuck in a muddy marsh. The baby dinosaur is thrashing around and has sunk up to its middle – it will drown at any minute if they don't help it out! But as Jamie and Tom launch a rescue mission to save the baby creature, its mother suddenly appears, waving her huge clubbed tail around! Oh no! She's on the attack! Will she realise that the boys are only trying to help?
Fun Stuff
Activities
Here's a pair of battling tyrannosaurs from the Dinosaur Cove series to colour in.

Here's a herd of triceratops from Dinosaur Cove for you to colour in.

Here's a spiky stegosaurus from Dinosaur Cove to colour in!
Who's reading this?
We want to read this book