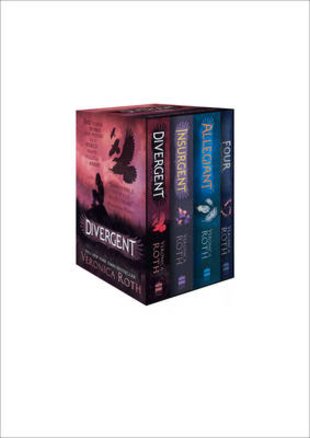 Look inside
Divergent Box Set (Books 1-4)
Now with Four! What's YOUR faction? Bare-knuckle thrills in a badass future world, with an über-cool heroine to cheer on. In Tris's world, society is split into five factions matched to five human virtues. (Half the fun is figuring out which you'd be in.) But Tris has a secret. She doesn't fit into any faction. She is divergent. And that is dangerous. Then disaster strikes. Now Tris's darkest secret becomes her only lifeline. Does she have the drive to survive? Violent duels. Harsh choices. Death. Romance. Heartbreaking twists. The bravest girl you'll ever know. Find out what the fuss is about.
Handsome box set of this blockbusting book/movie sensation
A deadly battle for the world order, set in a broken future Chicago
A must for fans of The Maze Runner or The Hunger Games
Now a major film trilogy starring Shailene Woodley
"The next big thing." Rolling Stone
"Trust us … this baby is going to blow up BIG!" PerezHilton.com
This box set contains mature themes more suitable for older readers.
#autumn-packs-0916