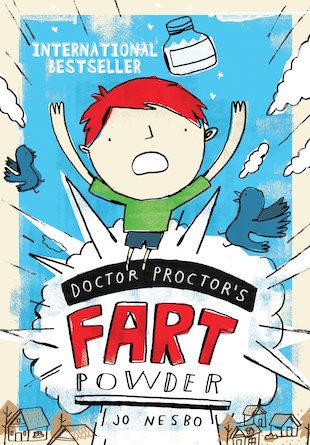 Look inside
Doctor Proctor's Fart Powder
Doctor Proctor has finally found the key to his dream of becoming a world-famous inventor – a super-strength fart powder that can blast people right into outer space! And with the help of the doctor's new neighbour Lise and her peculiar friend Nilli, Doctor Proctor's Fart Powder is ready to go worldwide! But ruthless twins Truls and Trym Trane are lurking in the background, determined to get hold of the fart powder for their own evil ends. Their plot to steal it sparks off a firework explosion, a trip to prison, a sewer chase and a brush with an escaped anaconda. Are Doctor Proctor's plans about to get blown sky-high? An internationally bestselling, rollicking and fart-filled adventure from the most successful Norwegian author of all time.
"A laugh-out-loud funny title for everyone who finds fart jokes funny." Booktrust
"Sometimes what every reader needs is a book that will make them laugh uncontrollably. Doctor Proctor's Fart Powder did just that for me." WondrousReads.com
Fun Stuff
Activities
Doodle the heads on these unfinished bodies!

Imagine you were a mad inventor like Doctor Proctor. Complete this chart about your invention.

Can you spot the five differences between these two pictures of Doctor Proctor?