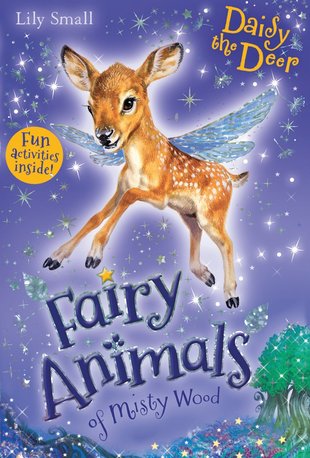 Look inside
Fairy Animals of Misty Wood: Daisy the Deer
As if Rainbow Magic met Holly Webb. No wonder you can't get enough. Fluffy little animals with silken fairy wings. The new magical craze. Every animal in Misty Wood has a very special job to do. But Daisy the Deer's job is dreamier than most. What is it? Flying around in the moonlight, whispering happy dreams into the ears of sleeping fairy animals. (Blissful sigh.) Then Daisy meets a little hedgehog who is too scared to sleep. Can she show him there's nothing to be afraid of? Pure enchantment: a story with activity ideas and dreamy magic on every single page.
Fun Stuff
Activities
Cut out this bookmark and colour it in to make it look beautiful.

Use this fun doorhanger to let people know when you're reading Fairy Animals or when you're ready to play!

Make this Misty Wood picture come to life by adding some beautiful colours.

Can you find all of the Misty Wood words hidden below?