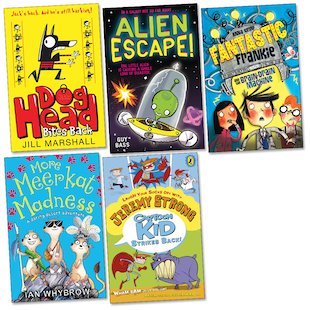 Look inside
Fantastic Funnies Pack
An accident-prone alien on the run! A headmaster who wants to turn his pupils into robots! A boy who wakes up with a jackal's head! Expect the unexpected in these topsy-turvy comic tales. Hang out with Jeremy Strong's sketching superhero, the Cartoon Kid, or join a family of manic meerkats for some snout-in-the-air silliness. Or find out: will hapless alien Hex ever learn to shoot ray guns and disintegrate enemy scum? Will Frankie and his friends at the freaky Crammer Grammar defeat their sinister headteacher and his dastardly brain-drain machine? And what will happen to Jack when he wakes up sprouting fur and fangs – and realises he has turned into the Egyptian jackal-god of the dead? Five wickedly comical books to make you laugh your head off!
Fun Stuff
Activities
Create your very own superhero character. Let your imagination run wild!

Inspired by Cartoon Kid? Create your own cartoon strip here!
Who's reading this?