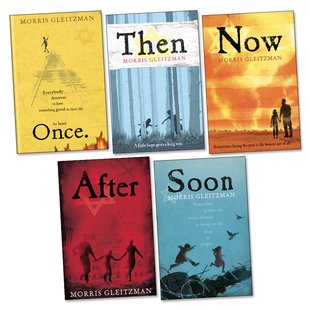 Look inside
Felix and Zelda Pack x 5
Some things are impossible, surely. Like making a Nazi who wants to kill you (and has toothache) laugh. Or staying hopeful when your entire family is murdered. Or making a story about the Holocaust sweet and funny. Except, hang on – when a master storyteller like Morris Gleitzman gets involved, anything can happen. This World War Two saga is the story of Felix: a kid who never loses faith in goodness. He's basically a walking ray of sunshine, and even a terrible war can't extinguish that. Well, not quite. Which makes this a particularly moving and unusual look at the war, seen through Felix's trusting eyes.
A war story which spans from the Holocaust to the present day
Captures a young boy's hope and resilience in the face of horror
One of the most touching and heartbreaking series you will ever read
Morris Gleitzman is one of Australia's biggest children's authors
This pack contains mature themes more suitable for older readers.
#warstories
#summer-18
#sum-18