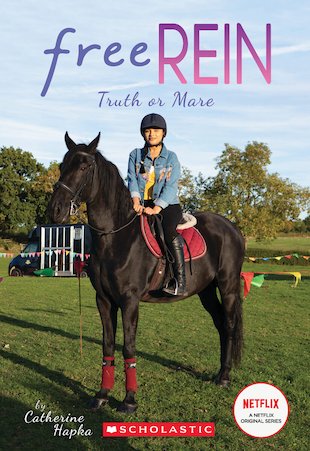 Look inside
Free Rein #3: Truth or Mare
Irresistible fiction based on the Netflix series. Ghost dogs, treasure hunts and horses! Zoe and the riders of Bright Fields Stables are playing a game of Truth or Dare. Or, rather, it's a game of Truth or Mare, since the horses are involved too! Becky is having fun posting videos of all the dares on her vlog, which she hopes will make it big. Meanwhile, a ghost dog might just be running around Pin's castle – and there's treasure to be found! LOTS is going on. Yet Zoe has a worry: one that she barely dares to admit. What if the island isn't where she's supposed to be, after all?
Exciting mid-length fiction based on the Netflix series
Includes eight pages of colour photos from the TV show
A sensitive tale of dealing with secrets and worries
The perfect blend of family, friendship and horses
Who's reading this?
We want to read this book