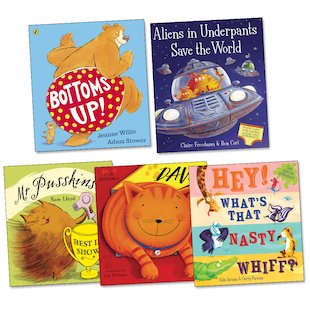 Look inside
Funny Picture Book Pack
Have a chuckle a day and keep the blues away with a comical collection of rib-tickling treats. In the grand tradition of Scholastic Book Clubs, our experienced book selection experts have rounded up the funniest fiction around, and subjected it to intensive tests of their tummy-tickling, side-splitting standards. Just a few very special books made it through into this pack, after reducing readers to hysterical guffaws and tears of laughter. We have got those special picks here for you. Warning: do not read unless you wish to lose control!
Fun Stuff
Activities
Colour in this alien…and his underpants!

Go greener with Hyena from Hey! What's that Nasty Whiff with these handy eco tips.
Who's reading this?