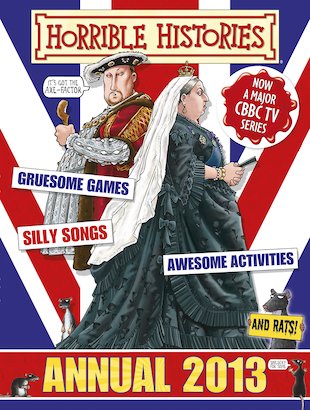 Look inside
Horrible Histories: 2013
Yikes! Yet another yucky year of gruesome gags, grisly games and nasty bits! Will those rotten Royals and vile villains of long ago EVER learn to behave? A swashbuckling treat for existing series fans – and a frightful shock for unsuspecting new ones – this atrocious annual is our most interactive yet! As you'd expect, it's stuffed to the hilt with foul facts, dreadful jokes and putrid puzzles. But there's also space for you to create your own perilous profile, draw your personal 'Wanted' poster, show off your knowledge in the Horrible quiz hotseat, cook up rotten recipes and find out which vile villain you are! So join horrible host Rattus Rattus for an activity bonanza which is not for the faint of heart. It's the annual with rat-itude!
Fun Stuff
Activities
Download this Knight wallpaper for your PC.

Download this soldier wallpaper for your computer.

Viking wallpaper for your PC.

A fiendish Greek wordsearch!
Who's reading this?