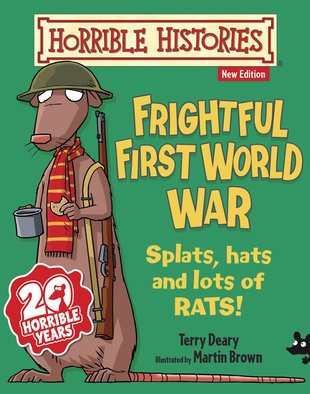 Look inside
Horrible Histories: Frightful First World War
Fatter. Funnier. And with bigger pics. A new chunky edition: the same historical splattering of laughter, blood and gore. One hundred years since the First World War was fought. The perfect time to get the horrible lowdown. And yes, we do mean HORRIBLE. The First World War was so terrible and deadly that they called it 'the war to end all wars'. From soldiers drowning in mud to pilots being blown out of the sky, it was ferociously foul from start to finish. But if you like fat kings, dead horses, breathing poisonous gas or sniffing your own pee, you've come to the right book…
#reading-lists-7
#horriblehistories-wartime
Fun Stuff
Activities
Celebrate 20 years of Horrible Histories with bunting for you bedroom, classroom…or another room!

Here's a putrid pirate for you to colour!

Download this Knight wallpaper for your PC.

Who's a pretty boy then? A swashbuckling download for your computer.

Can you find ten rotten rats in this picture?

Download this soldier wallpaper for your computer.

Download free Horrible Histories wallpaper!

Can you find all the words in this Terrible Tudors puzzle?

Can you spot the eight differences?

Can you find all of the words in this Horrible Histories puzzle?
Who's reading this?