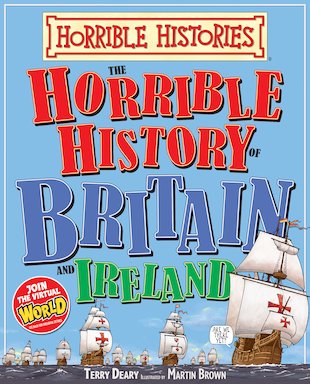 Look inside
Horrible Histories: Horrible History of Britain and Ireland
Gore at your door! Horrible gets local in this yucky look at your very own nasty nation, which includes a perilous door poster. Did the Black Death strike on your doorstep? Perhaps the Jack the Ripper murders happened just down the road. Was there a famine, a battle or a Blitz bombing? This book will tell you. Yup – it's the bloody history of England, Ireland, Scotland and Wales. Live in one of those countries? Check out your horrible history! The Battle of Hastings, the Easter Rising, the Great Fire of London: they're all right here. In frightful facts, foul funnies and (you guessed it) nasty bits!
The full-colour horrible history of four nasty nations
England, Ireland, Scotland and Wales – in gory bits!
Full of jokes, cartoons and quizzes, plus a cool poster
A brilliantly engaging way to explore local history
#britain
#horriblehistories-shopall