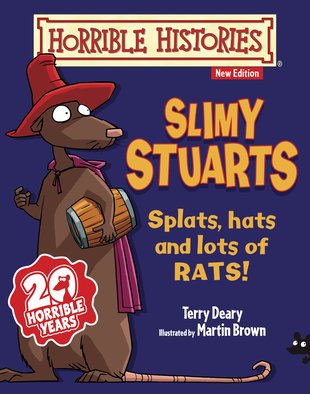 Look inside
Horrible Histories: Slimy Stuarts
Fatter. Funnier. And with bigger pics. A new chunky edition: the same historical splattering of laughter, blood and gore. I bet you've never even heard of the Stuarts. They don't sound very terrible, do they? But this book is going to tell you different. Just for starters, did you know some slimy Stuarts ate toads, snails and fleas? (And you thought your mum was cruel making you eat your peas!) Meet a nose-picking king who never washed his hands. Chuckle at the people who wore fish on their feet. Fire, plague, the ghastly Gunpowder Plot and a sickening civil war. Get all the horrid facts – then test your teacher!
#horriblehistories-shopall
Fun Stuff
Activities
Here's a putrid pirate for you to colour!

Can you find ten rotten rats in this picture?

Download free Horrible Histories wallpaper!
Who's reading this?