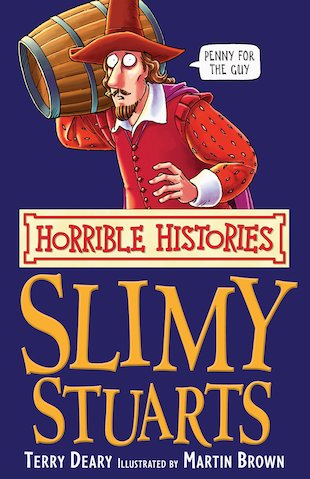 Look inside
Horrible Histories: Slimy Stuarts (Classic Edition)
I bet you've never even heard of the Stuarts. They don't sound very terrible, do they? But you'll soon change your mind once you hear the sickening story which started when gibbering James I took the throne. Now you can find out…
why some slimy Stuarts ate toads, snails and fleas
which king picked his nose and never washed his hands
why people wore fish on their feet (bleeugh!)
Plus there are the dreadful deeds of the revolting Roundheads, the gruesome truth about ghastly Guy Fawkes, tragic tales of women accused of witchcraft, and the ever-present threat of the perilous plague! The Stuarts have never been so sickening!
#horriblehistories-shopall
Fun Stuff
Quizzes
Activities
Follow the puzzle to find out what each of the knights won in their tournament.
Who's reading this?
We want to read this book