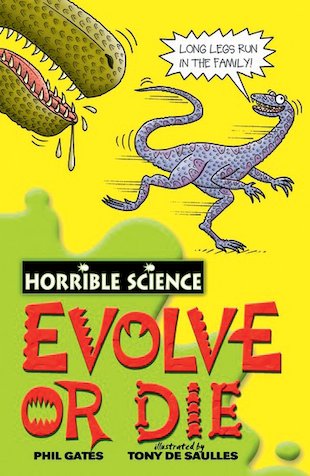 Look inside
Horrible Science: Evolve or Die
Do you think your relatives are revolting? Well, never mind your wrinkly gran and your embarrassing aunts and uncles. In this book, you'll meet some revolting relatives you never knew you had – the slimy life forms that crawled out of the primordial sludge of Earth's ancient seas! We can trace all living things on earth back to those squishy creatures – but why are we still here when other creatures have vanished forever? It's because we learned to evolve – or die!
So dip into this book to discover:
how a cauliflower really is a mutant
why you are a slave to your

DNA

what fantastic fossils and petrified poo look like
what a "living fossil" is (no, not your gran!)
what dinosaur farts were like (would you survive them?)
why just talking about evolution could wipe you out
From dinosaurs to dodos, monkeys to men, find out why we're still here – and why some of them are not! It's the sickening science of survival. Will you survive the excitement?