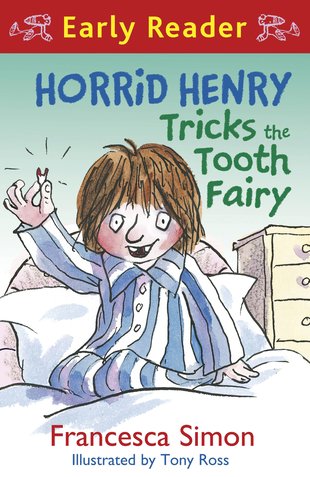 Look inside
Horrid Henry Early Reader #13: Horrid Henry Tricks the Tooth Fairy
Bags of cheeky fun with Henry to help you start reading on your own. Great colour pictures by Tony Ross, with loads of brand new art. And one screamingly funny story – not too long and not too short. Super reading practice for all you tiny terrors. Did you know the Tooth Fairy pays for people's teeth? What a mug! All Henry needs is some rotten old teeth to put under his pillow. This is his chance to get rich!
Fun Stuff
Activities
Follow the tangled string to find out who gets wet when the buckets tip over!

This wordsearch is full of Henry's favourite gruesome words – can you find them all?

Horrid Henry sets out to scare on Halloween. Can you find the four matching pairs?

Get rocking with everyone's favourite fiendish boy!

Impress your friends with this selection of Horrid Henry's favourite jokes from his latest book.

Horrid Henry loves trick or treating – especially when the treats are sweets! Guide him through the maze to find the big jar of sweets.