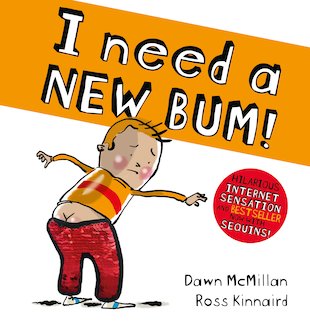 Look inside
I Need a New Bum
There's an internet celebrity, the Scottish Granny, who reads funny children's books online. Have you seen the viral video of her giggling at The Wonky Donkey? Well – THIS book made her laugh even louder! The kid in this story has a problem. His bum is broken. It's got a huge crack! Oh no! He'll need a new one – and this time, he wants the very best. So he sets off to find the perfect bum. But should he choose an armour-plated bum? A rocket bum? Or a robot bum? Only one thing's for sure: his tale will crack you up – no ifs or butts about it!
The witty picture book behind the viral video sensation
As read by the Scottish Granny of Wonky Donkey fame
Cheeky fun by award-winning author Dawn McMillan
A riotous bestseller that the whole family will love
"Your kids will love this book. They will giggle, they will laugh, and they will want this book to be read over and over again because it is just plain silly and funny." Storywraps
Who's reading this?
We want to read this book