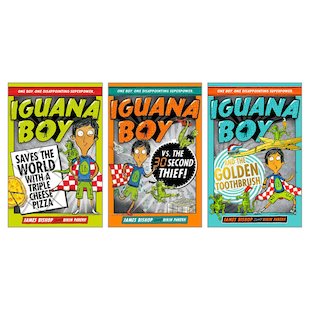 Look inside
Iguana Boy Pack x 3
Hands up if you wish you had a superpower! Right – that's pretty much all of us. Including Dylan. He's wanted one since forever, especially as his brother and sister have really cool powers. But when his wish finally comes true, Dylan is mightily disappointed. His new superpower is: he can talk to iguanas. RUBBISH!!! How is he going to save the world doing that? Well – Dylan is about to learn that iguanas have plenty to say. But can they transform him into a hero when evil supervillains start popping up?
A bold, fresh and funny new twist on superhero fiction
Diary of a Wimpy Kid meets My Brother is a Superhero
Bursting with laughs, invention and cartoon illustrations
Top series winning huge acclaim from readers and reviewers
"It's not often that you come across a children's book with a voice as strong as Bishop's unique spin." Starburst Magazine
Who's reading this?
We want to read this book