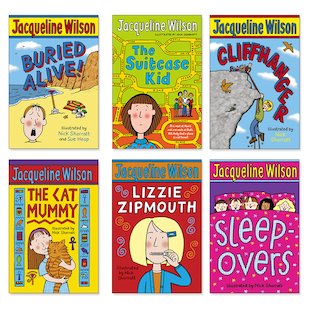 Look inside
Jacqueline Wilson Ages 7-9 Pack x 6
Your perfect first step into the wonderful world of Jacqueline Wilson! Who ever said life would be easy? If you're rotten at PE, your parents can pack you off on an adventure holiday full of outdoor activities. Yikes! Or perhaps your mum has fallen in love, and you have to move in with a whole new family, like poor Lizzie Zipmouth. (She's so fed up she won't even talk.) But don't panic! Whatever's wrong, Jacky makes it all right again in her wise, witty and addictive stories. Living through tough times is hard – but reading about them is fun!
Exciting younger fiction from a true literary star
Shorter novels which build stamina and enthusiasm
Jacqueline Wilson was Children's Laureate 2005-2007
She has won the Guardian Prize and the Smarties Prize
#favourite-authors-illustrators
Who's reading this?
We want to read this book