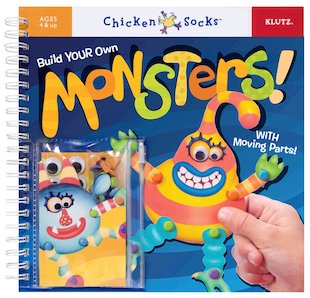 Look inside
Klutz: Build Your Own Monsters!
Tentacles and claws to mix and match! Moving monsters to make! Build them and say GRRRRRRR ! In this big bad book you'll find 50 freaky monster parts to put together – jaws, claws, googly eyes, wobbling tentacles, waving wings and flailing tails. Do you want a grumpy monster? A bumpy monster? A purple hairy monster? A cute furry-purry monster? Make your magnificent mutants. Move them all around. Take them apart and put them back together. Aaaarrrgh! It's so much fun it's freaky!
Book contains over 50 punch-out monster parts, paper fasteners, stickers, googly eyes and a storage envelope to keep your creatures tidy.