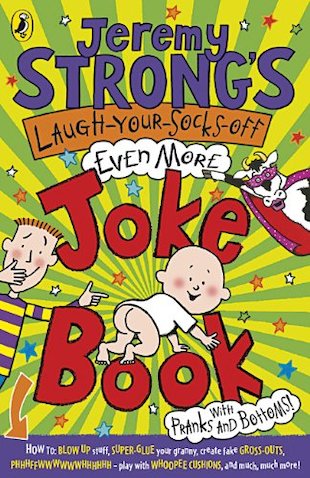 Look inside
Laugh-Your-Socks-Off Even More Joke Book
King of comedy Jeremy Strong can never hold back from telling a silly joke for very long! And now he's told so many he's had to make a brand new book of even more daft laughs galore! More chuckles! More gags! More awful puns to make tears stream from your eyes! And EXTRA brand new practical jokes and pranks to play as well! Blow things up, glue things down, and drive your mates nuts with whoopee cushions! It doesn't get sillier than this!
Fun Stuff
Activities
Unjumble the letters to form titles of books by Jeremy Strong.

Speed up your desktop with this brilliant Hundred-Mile-an-Hour Dog wallpaper.

This is a weird and wonderful wordsearch!

Set Krazy Kow loose on your desktop!
Who's reading this?