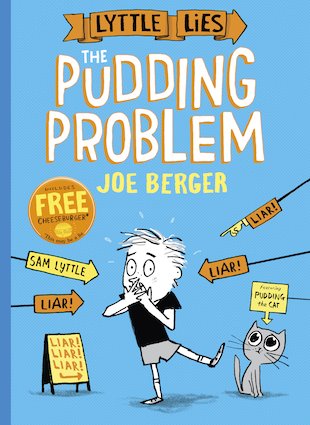 Look inside
Lyttle Lies #1: The Pudding Problem
Shortlisted for the 2018 Scholastic Lollies Awards.
Has Sam Lyttle told you about the day aliens attacked his town? Or the time a sinkhole swallowed his school during assembly? Strange and incredible things happen to Sam all the time. Is that because he's lucky? No – it's because he's a mahoosive liar! Most of his lies are harmless; tall tales and fibs. But when he's accused of a bunch of weird pranks, how will he talk his way out of it? A ping-pong ball in a jar of peanut butter. Two pounds of potatoes in the washing machine. No one believes Sam when he says it's not him. What do you think? Is he telling the truth – or is this whole book a lie?
Hilarious fun from acclaimed cartoonist Joe Berger
Just right for fans of Tom Gates and Timmy Failure
Joe Berger wrote the Pitchers strip for the Guardian
He also writes the acclaimed Bridget Fidget books
#lollies-2018-shortlist
#lollies-2018-6-to-8
#lollies-2018-all
Who's reading this?
We want to read this book