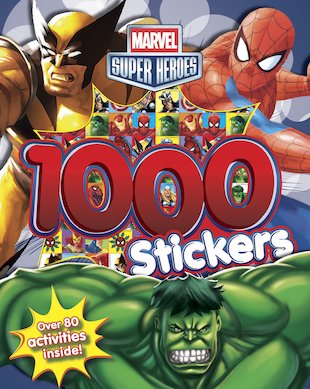 Look inside
Marvel Super Heroes: 1000 Stickers
The ultimate book of the ultimate superheroes. 1000 stickers! Unleash the mightiest fighters of all time. Yup: it's a Hulk-sized killer line-up of all the greatest ever Marvel icons. Spider-Man, Captain America, Iron Man – and Hulk himself, of course. All in one mega-sized funbook with OVER 1000 STICKERS!!! Go on: try it for size. Storming scenes to colour. Sticker activities. Brain-bending puzzles. Plus your own cartoon adventure to draw. Doesn't that sound pretty super to you?
Enter the mighty world of the Marvel Super Heroes
Over 1000 stickers and 60 fun-filled activities
All the top heroes, from Iron Man to Hulk
Includes colouring pages and sticker games
#activitybooks-26052016
#marvel-26052016
#2for5-activity-210716
Fun Stuff
Activities
Spider-Man takes on Hydro-Man in this action-packed colouring sheet!
Who's reading this?