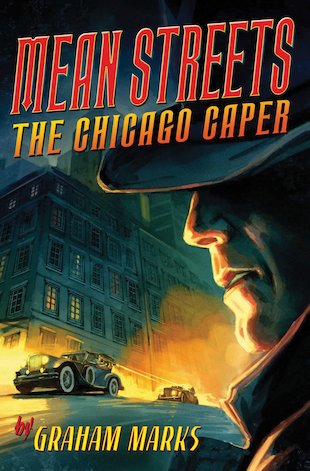 Look inside
Mean Streets: The Chicago Caper
Trey dreams of becoming a hotshot detective, just like his hero Trent "Pistol" Gripp from Black Ace magazine. Instead he's holed up at his grandfather's ranch in Kansas, bored out of his skull. But that all changes when he discovers that Tino "The Lip" Corezzi, a famous gangster, is living just down the road. A bit of snooping later, and Trey finds himself thrust headlong into the middle of a mafia-backed plot to derail the presidential elections! Corruption, kidnapping and violence await Trey in the frightening world of the mafia. But nothing can prepare him for the storm of peril he's whipped up on the mean streets of Chicago… Welcome to 1928, where the West is as wild as ever – and guys in sharp suits with tommy-guns are doing the talking!
"Graham Marks just gets better and better with every book he writes." Melvin Burgess
"I flew through the story in a single sitting… It has shoot-outs, kidnappings and gritty detective work, and its setting, based on the real events that happened in 1920s Chicago, makes it even more enjoyable." Bookzone4boys.blogspot.com
"A novel to be devoured in one sitting" Garth Nix on "Kai-ro"
Who's reading this?
We want to read this book