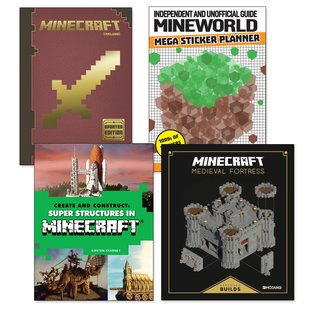 Look inside
Minecraft Pack x 4
The ultimate way to boost your game! From building to battles, show who's boss. With this bumper set of books, you simply have no excuse for not blazing a trail in your favourite game world. You'll learn to win every battle, and build seriously super structures. Heck – you even get to rule your Minecraft kingdom from an envy-inducing castle! All that, plus a planning guide that helps you design better builds, and play with 1000 stickers. Who said Mine-craft? It's YOUR craft that's wowing us all!
Get more from Minecraft with four colourful guides
Building, fighting, planning – it's all covered here!
With two official Mojang hardback strategy books
Plus two unofficial guides, one with 1000 stickers